Evo-pbs Series
DSP-controlled, active, line array with adjustable vertical dispersion (beamforming).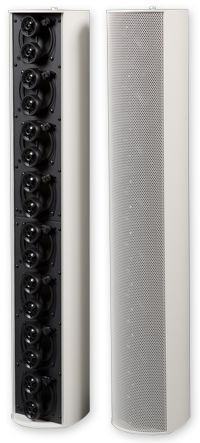 The new Evo-pbs is a self-powered, modular line array speaker with adjustable dispersion characteristics. Depending on the size of the area to be covered, up to 10 modules can be linked together for a column length of 10 m, providing powerful and even coverage up to 100 m with truly full-range pattern control.
The Evo-pbs contains eight convection-cooled power amplifiers per module, providing sufficient power reserves even at high sound pressure levels.

Vertical sound dispersion can be configured into up to six independent beams with a dispersion of ±53°. Obstacles can be avoided because the acoustic centre of each beam can be allocated to any chosen speaker chassis. The beams can be focused to beam angles of between 14° - 90° for one module (3° - 90° for five modules). Evo-pbs delivers class-leading fidelity and STI values, even in the most challenging acoustical environments.
PRODUCT DESCRIPTION
2-way full range loudspeaker for speech and music reproduction in acoustically difficult surroundings

Digitally steerable vertical dispersion

Powerful DSP for EQ, beamforming, side lobe reduction (SLS), beam focusing

Up to 6 independent beams, each with individual volume adjustment can be created

The acoustic centre of every beam can be allocated to an individual speaker chassis

15 individual presets can be stored

Class D power amplifier technology for high output SPL and maximum efficiency

Modular construction

DSP features: 8 fully parametric EQ, limiter for each speaker channel

Comprehensive remote monitoring and safety features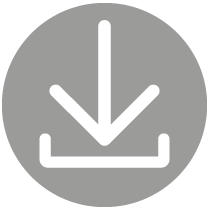 Download technical drawing
TECHNICAL DATA FOR AN INDIVIDUAL MODULE EVO-PBS 1000

| | |
| --- | --- |
| Technology | Active, two-way coaxial system, 8x 4¼" Neodymium lower mid, 16x 1,1" tweeters powered by 8 DSP-controlled Class D power amplifiers |
| Coverage (H) | 150° (<3 kHz), 120° (> 3 kHz) |
| Coverage (V) | Adjustable to 14°-90° (for details see beamforming) |
| Frequency range | 80 Hz - 20 kHz (-6 dB) |
COMPARISON OF THE CHARACTERISTICS OF THE ASSEMBLED MODELS
Evo-pbs 1000
Evo-pbs 2000
Evo-pbs 3000
Evo-pbs 4000
Evo-pbs 5000
Speaker complement
8 x 4¼''
Neodymium
16 x 1,1''
Tweeter
16 x 4¼''
Neodymium
32 x 1,1''
Tweeter
24 x 4¼''
Neodymium
48 x 1,1''
Tweeter
32 x 4¼''
Neodymium
64 x 1,1''
Tweeter
40 x 4¼''
Neodymium
80 x 1,1''
Tweeter
Coverage horizontal
150° (<3 kHz)
120° (>3 kHz)
Beamforming Coverage vertical
(Adjustable in 0,1° steps)
14° - 90°
7° - 90°
5° - 90°
4° - 90°
3° - 90°
Mimimum vertical opening angle
+/- 7° (14°)
+/- 3,5° (7°)
+/- 2,5° (5°)
+/- 2° (4°)
+/- 1,5° (3°)
Vertical orientation angle
-53° to + 53°
-56° to +56°
-58° to +58°
-58° to +58°
-58° to +58°
100 dBa PinkNoise
13 m
23 m
33 m
43 m
52 m
Peak-power output
800 W
1600 W
2400 W
3200 W
4000 W
Dimensions in cm (H x B x D)
93 x 15,6 x 17
186 x 15,6 x 17
279 x 15,6 x 17
372 x 15,6 x 17
465 x 15,6 x 17
Weight
12,5 kg
25 kg
37,5 kg
50 kg
67,5 kg